The aquarium I am working on is a 34g Solana, by Current USA, I think. The back glass has a notch cut into it, I do not know what the reasoning behind doing this but it seems to work out in the case of installing a coast to coast. This skimmer box will be on the outside of the tank, but the 1"-2" drop in the glass will allow the water to flow into the skimmer box. I went with Reefone's idea and drilled two holes to add structure to the whole assembly.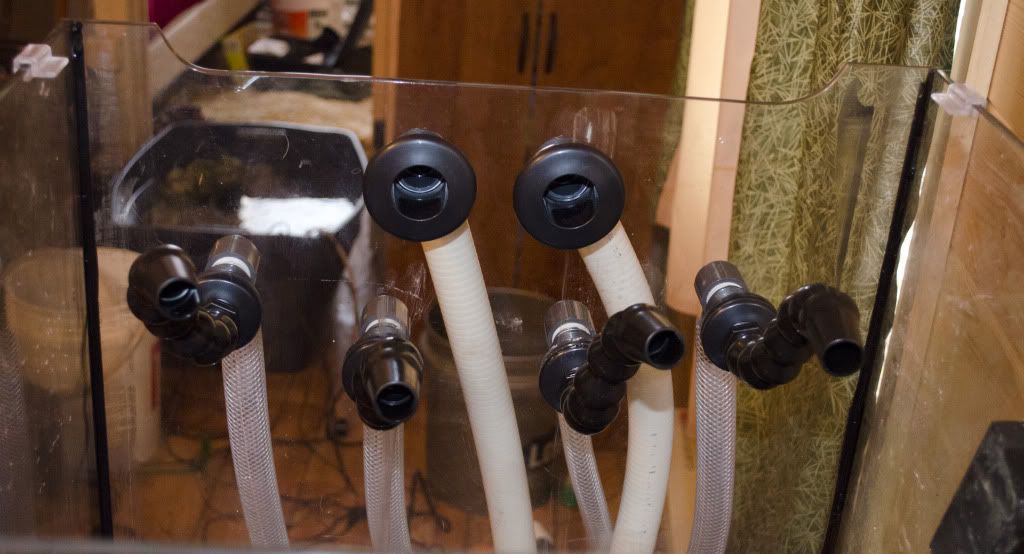 Now the coast to coast is not set up yet, I temporarily set it up with two overflows so I could get my livestock back into a tank, instead of being in buckets and the Rubbermaid container you see behind the aquarium. I do not know exactly if this will work or not, since it is all trial and error for me, but if it doesn't then I can simply revert back to this setup which I know works.
I do have to say that if anyone has a Solana, it is not as easy to remove the back installed sump, as I thought it would be. I ended up having to take a saw-zall to it and ended up resealing the back glass because I cut the silicone, trying to get it out. It took the better part of the day.
I did the drilling and plumbing yesterday and just recently filled it with water, and placed all the livestock back in, I did end up losing my favorite fish though, he got sucked up into the powerhead I was using to recirculate the water. It does look like all the corals and inverts made it though, a little banged up but not too bad.