Discussion Starter
·
#1
·
Spanko thought
My biocube 29 gallon is now about 9 months old. It is doing great. The requisite fishes and corals all of which are a hodgepodge of different things that I have come to like.
Rockwork is a wall of sorts.
I am tired of it. I am tired of islands of rock. I am tired of valleys of rock. What I do like though is those areas of the reef where the bottom is completely covered with a layer of rock on which is attached monti cap, acro, and varied encrustiing SPS.
So at that point my tank looked like this...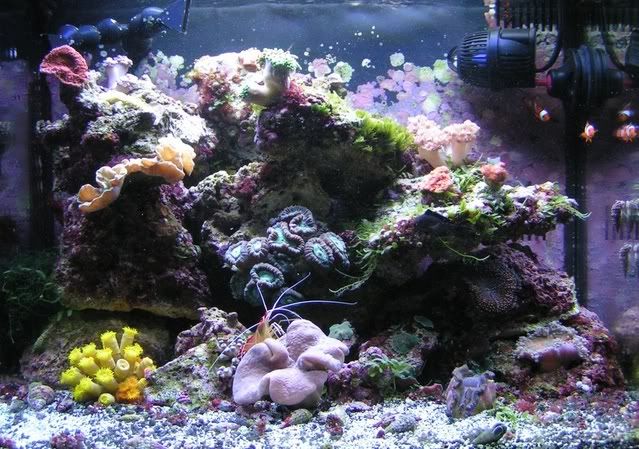 I sold, traded in for store credit, or gave away to friends all the fish, LPS and softies I had. I removed all of the substrate and replace only the rockwork, snails, hermits and my pom-[p\\pom crab as well as any SPS which really wasn't much but a green slimer, superman monti, and monti cap. I then began to purchase those things I found living on the reef flats. So here are the particulars.
29 gallon bio cube
140 watt Sunpod
Heater and Purigen in the first chamber.
Sapphire Aquatics skimmer and Chemi Pure Elite in the second chamber
Rio 6hf and Auto top off floats in the third chamber.
Tank is bare bottom. About 35 lbs. of rock. A small ball of Chaetomorpha.
A Koralia 1 and 2.
Geometric Pygmy Hawkfish
Chrysiptera hemicyanea damsel
Chrysiptera talboti damsel
Green Chromis
Neon Goby
Sixline Wrasse
All fish at this point were bought tiny. The largest is the sixline at 1.25". The only fish that will be permanent residents will be the sixline, the neon goby and the hawkfish. All other will be rotated out when they reach 2.5" in length and replace with other fish, mostly damsels.
Coral are
Porites worm rock
Orange monti cap
Red monti cap
Beige with orange polyped monti cap
Beige with blue berry polyps monti cap
Bright lime green monti cap
Superman monti
Blue tip acro
Tabling acro
A tiny pc of birdnest acro that may or may not make it.
Green slimer
Motile inverts
Various snails
Various hermits
pom-pom crab
Long spined Urchin bought to eat Caulerpa, not doing it, LFS for store credit.
Tuxedo Urchin
Water changes are religiously 10% per week
Dosing is Calcium, Alkalinity and Magnesium every three days or when testin warrants.
Filtrating is the skimmer, the Purigen, and the Chemipure Elite.
A stock filter frame has been modded to accept phosphate removing filter pads or any other type as needed. This is run three weeks per month changed out every week The fourth week a stock pad is used to get the carbon benefit.
Fish are fed three times per week with the normal hodgepodge of frozen, pelleted, and flake food.
The coral are target fed twice per week with a mixture of coral frenzy, reef plus, and DT's phyto.
Ammonia, nitrite, and nitrate are undetectable.
Calcium runs from 420 - 450
Alkalinity runs 3 - 3.5
Magnesium runs 1300 - 1400
So three months after ripping the tank that was apart here is a current pic or two. I am done adding things, maybe some more coral if I see something I have to have, and will be letting it grow to become the reef flat I am looking to create.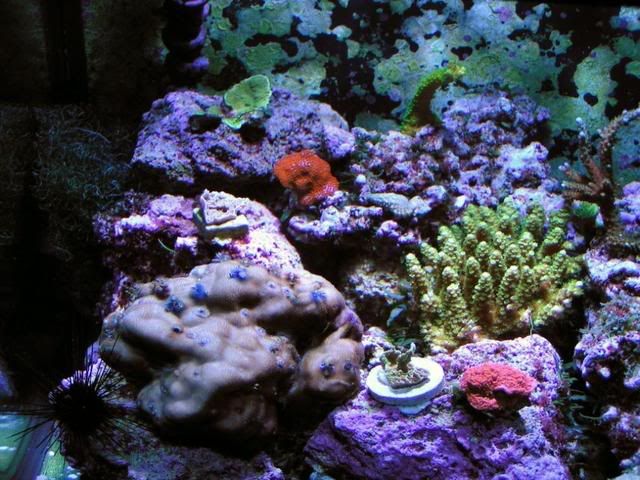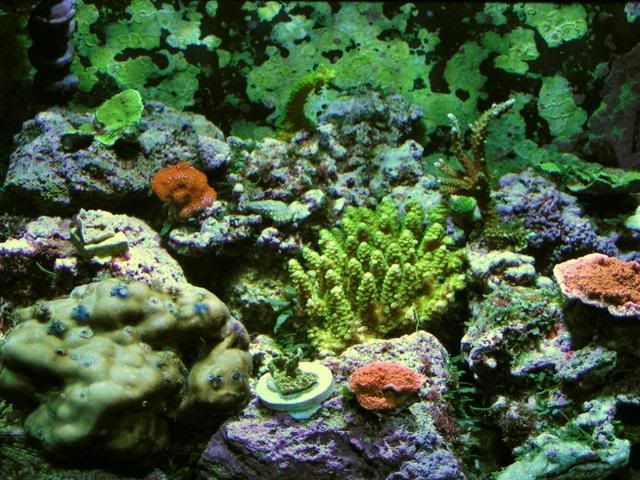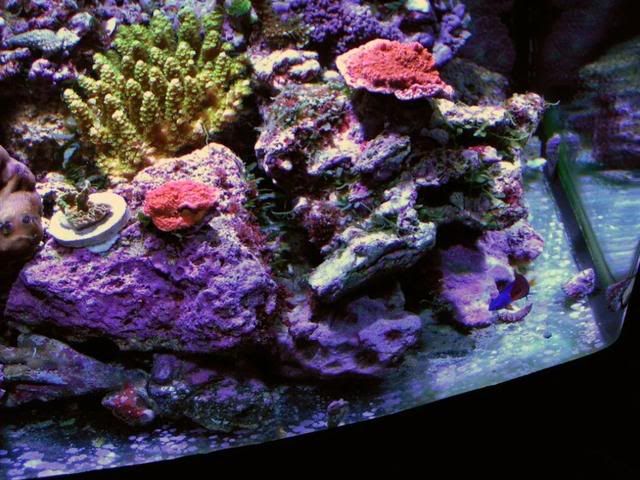 And this is the look I am hoping to copy.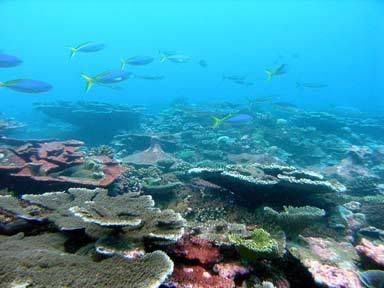 Thank you for looking. I will update as time goes on and the coral start to grow in.