Discussion Starter
·
#1
·
ok so i have had my tank set up for a few years now and i seem to be having some problems.
basics:
75g disp. 29g sump
1.025
80*
~400 ca
>20 nitrate
0 nitrite
my problems are that the corals dont seem to be doing so great. i have placed a before and some after pics for description purposes. the before pics were with pc lighting two white two blue 65w bulbs. then i went to a dual t5 with dual pc actinic. then i got a dual 400w metal halide setup. i started the mh on low time like 1 hr then moved up about an hour every week to two weeks. up to about 6hrs. i started noticing that the corals were retracting and the orange cap was turning white (bleaching). i pulled one of the bulbs and now running only one plus the actinic pcs. the mh is on for 4 hrs and is roughly 20" above the water.
questions:
what is going on with the orange cap (what are the dark growths) they are hard not like a soft algie.
why did the toadstool shrink so much? it almost looks like it is dead. this used to be my showpiece now it is like moosh. it seems that it maybe coming back to life but i cant tell for sure.
any help you can provide me is greatly appreciated.
before: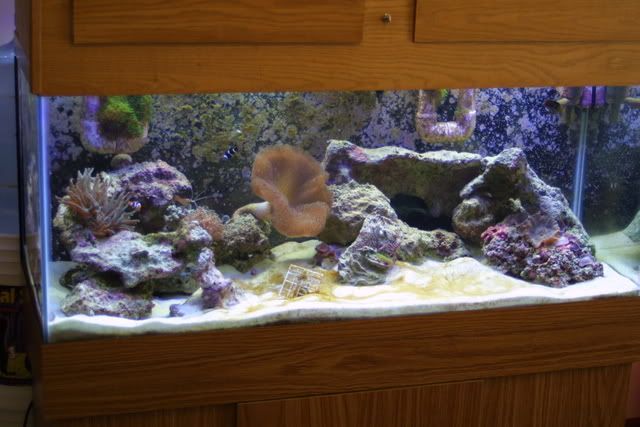 and now: