Discussion Starter
·
#1
·
Ok, so 5 days ago, we noticed that 1 of our 3 feather duster's was no longer making an apperance. 2 days it was MIA. On the 3rd day, I found it.. but without it's crown and out of his "shell". It died on the 4th night.
Why?
Now, a 2nd of the 3 is also out of it's "shell". But it still has it's crown and seems to be looking for something. Also appears that it now has 2 heads with crowns.. Is it spliting and growing into another feather duster?! Or do they all have 2 heads?
I can't get a clear view through the LR to see if the 3rd duster has 1 or 2 heads. But this one seems to be doing fine..
here's a picture of the 2nd feather duster. It's about 5 inches from the shell.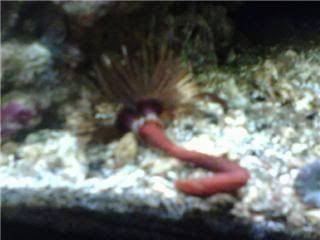 What is going on?! all Parameter's are on mark. temp could go up a degree..